The MSC Foundation and MSC Group launch prompt emergency relief initiatives to provide essential supplies, temporary housing and early reconstruction support
This is an open page and will be updated continually as our efforts are steadily expanded
6 February

On the 6th of February 2023 at around 4:15 a.m. local time, a devastating 7.8 magnitude earthquake struck southern Türkiye and northwestern Syria, centred 32.4 km northwest of Gaziantep. A 7.7 magnitude earthquake followed some nine hours later, centred 95 km northeast of the first, in Kahramanmaraş Province. The massive, widespread damage inflicted over 48,900 deaths, more than 42,300 in Türkiye and over 6,600 in Syria (figures on 21 February 2023). At least 41,791 buildings across 10 provinces in Türkiye were heavily damaged or destroyed, leaving around 150,000 people homeless. Adding to the tragedy, a large winter storm hampered the rescue efforts, with freezing temperatures putting the survivors, especially those trapped under rubble, at great risk of hypothermia.

Within hours of the horrifying news, the MSC Foundation and MSC Group were mobilising to provide emergency relief and rebuilding support, liaising with the Turkish authorities, Italian Foreign Ministry, the Vatican and humanitarian organisations already on the ground.

7 February

MSC Türkiye set up temporary accommodation using empty containers at Iskenderun port for 300 MSC Group employees and their families who had tragically lost their homes in the earthquake disaster. MSC Türkiye likewise took swift action to distribute food, beverages and items to meet basic needs. At the same time, the MSC Group was working with the Turkish Ministry of Internal Affairs to provide and deliver thousands of empty containers to four of Türkiye's hardest-hit provinces: Adıyaman, Gaziantep, Hatay and Kahramanmaraş. The containers will provide temporary accommodation for the earthquake survivors, protecting them from the harsh winter weather.

9 February

The MSC Foundation launched a global internal fundraising campaign across the MSC Group to support reconstruction projects in the affected regions. Every MSC employee donation will be matched by the MSC Foundation, doubling its impact in support of organisations working on reconstruction projects in Türkiye and Syria. Donating together, every act of generous support adds up to make a big difference.

16 February

Thanks to the immediate mobilisation of all the MSC Group's divisions, the MSC Aurelia was already heading from Naples to Iskenderun on the 16th of February, loaded with relief supplies for the most affected populations. The ship, which has a cargo capacity of 40 trucks and over 400 cars, was carrying 60 pallets of medical supplies, food, hygiene items, warm clothing and blankets. An additional 50 boxes containing 10,000 thermal tops were carried on behalf of Pope Francis.

18 February

The MSC Foundation partnered with the UN Refugee Agency UNHCR to plan the provision of further substantial relief. The initiative aims to send a hundred containers of first relief supplies, including blankets, mattresses, sleeping bags, kitchen sets, jerry cans and lamps from the UNHCR warehouses in Jordan to Türkiye. They will then be distributed in Gaziantep and other cities hit hardest by the earthquake, to be immediately placed at the disposal of the relief workers caring for survivors.

20 February

MSC Aurelia arrived in the port of Iskenderun shortly before a further 6.4 magnitude earthquake struck, successfully delivering our donation of 60 pallets of relief aid to Türkiye's Disaster and Emergency Management Authority (AFAD). As soon as she had been unloaded, the ship was prepared to provide emergency accommodation for over 1,000 people, complete with onboard leisure facilities, including a restaurant, cinema and video-game entertainment for children.
MSC's relief efforts are still very much ongoing, with more support urgently needed. If you'd like to help, you can donate using the accounts below. Your generous donation will be matched by the MSC Foundation to make double the difference.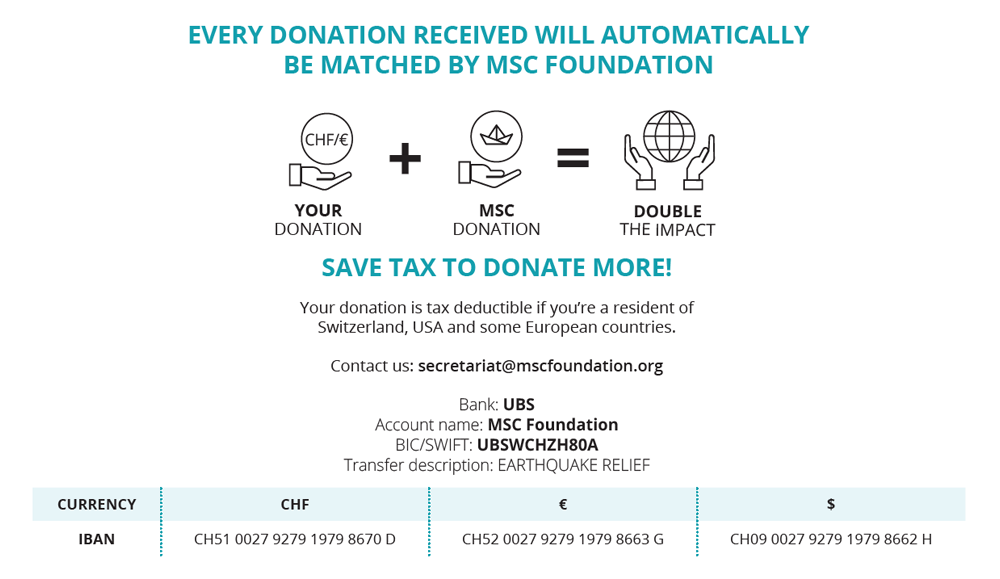 Challenges
A series of 4

violent earthquakes

and more than 2,100 aftershocks have devasted Türkiye and Syria
Massive loss

of life

with 48,900 deaths confirmed on 21 February 2023
41,791

buildings

in Türkiye heavily damaged or destroyed, leaving around 150,000 people homeless
Severe winter

weather

hampering relief efforts and inflicting hypothermia on trapped and homeless survivors