MSC Foundation partners with IUCN in Marine Restoration Partnership to conserve coral reefs
MSC Foundation to assist International Union for Conservation of Nature with knowledge sharing and expert support ranging across risk assessment, ecosystem mapping and data compilation and interpretation
Focus Area: Environmental Conservation and Education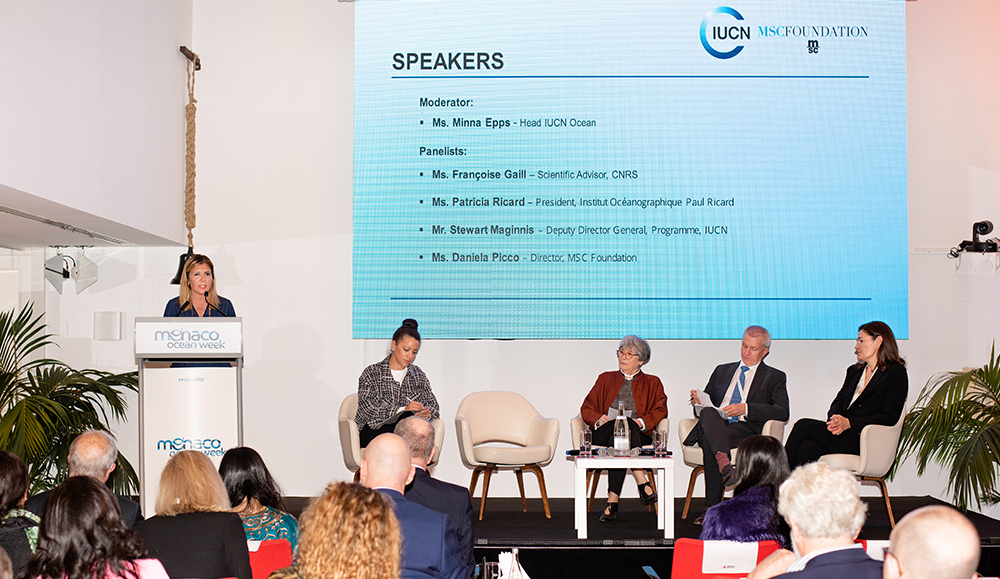 Minna Epps, Head IUCN Ocean, Françoise Gaill, Scientific Advisor CNRS, Patricia Ricard, President Institut Océanographique Paul Ricard, Stewart Maginnis, Deputy Director General Programme IUCN, Daniela Picco, Executive Director MSC Foundation
The MSC Foundation and International Union for Conservation of Nature (IUCN) have partnered to accelerate marine restoration as part of their commitment to environmental conservation. The partnership was announced in the presence of Albert II, Prince of Monaco, during Monaco Ocean Week, an event that brings experts and leaders from across the marine conservation community together to discuss key challenges facing the world's oceans. The partners will focus on accelerating ocean science and contribute to the United Nations Decade of Ocean Science for Sustainable Development.

Through the partnership, the IUCN will share the latest knowledge on the state of marine restoration, raising awareness of the urgent need to accelerate ocean science and the importance of IUCN data and tools as bedrocks of conservation.

The MSC Foundation will support the IUCN Red List of Threatened SpeciesTM by assisting with the completion of the first comprehensive global assessment of the world's coral species, contributing expert support with risk assessment models, ecosystem description and mapping, and data compilation and interpretation. Its chief aim here will be to support concrete, actionable restoration plans for coral reefs, mangroves and seagrass beds, as well as the Red List Threatened Species populating them.

This will be assisted by marine spatial planning analysis of important sites to be integrated in Key Biodiversity and Protected Areas to support the Global Biodiversity Framework's "30x30" Target, and will include integrating climate change in marine spatial planning with a focus on threat reduction plans for target areas.

Supporting these initiatives, the Foundation will develop and run coral conservation and marine biodiversity communication campaigns focused on disseminating scientific knowledge tailored to stimulate effective practical action.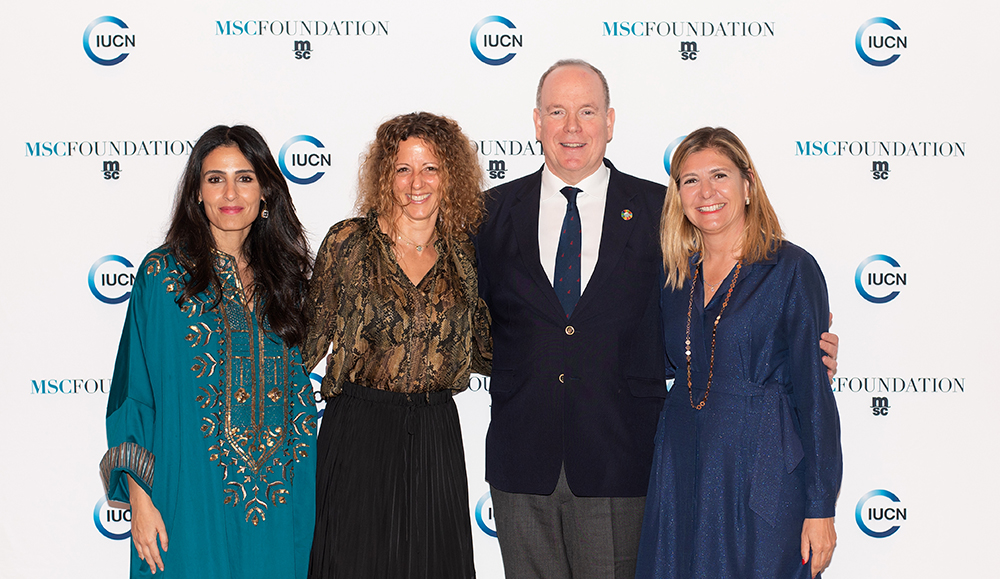 IUCN President Razan Al Mubarak, MSC Foundation Secretary General Marina Anselme, Albert II, Prince of Monaco and Executive Director of the MSC Foundation Daniela Picco

"I want to express my sincere thanks to the MSC Foundation for their support. It could not be more vital; over a third of coral species assessed on the IUCN Red List face extinction. This partnership will enable us to complete further assessments, and ensure the world has the information needed to protect corals and the livelihoods of the more than half a billion people who depend upon them," said IUCN President Razan Al Mubarak.

Mr. Pierfrancesco Vago, Chair of the MSC Foundation Executive Committee and Executive Chairman of the Cruise Division of MSC Group, commented: "As stewards of our planet, we have a responsibility to protect its precious ecosystems. Our new partnership with the IUCN is a powerful commitment to conserve and restore threatened coral reefs, mangrove forests and seagrass beds. By empowering decision-makers and practitioners to act on the global recommendations of the Global Marine Biodiversity Assessment, we can protect these essential ecosystems for future generations."

MSC Foundation Executive Director Daniela Picco added: "The MSC Foundation is committed to advancing ocean science and delighted to partner with IUCN to drive meaningful change in the marine conservation space. This partnership marks a significant step forward in our efforts to restore and protect the world's oceans. It complements our Super Coral Programme and other work in the marine conservation area, while offering promising scope to involve new partners on the communication and dissemination side. Together, we will work towards a sustainable future for our planet, where marine life thrives and the oceans are restored to health for generations to come."