Giant Venini glass sea sculpture makes a statement in MSC Foundation Centre aboard new MSC Seashore
Suspended sculpture 12 metres high with 190 swimming glass fish evokes precious wonders of the seas
Focus Area: Marine Conservation
The newest flagship in the MSC Cruises fleet, MSC Seashore, features a world first: an onboard MSC Foundation Centre with a breathtaking 12 m high sculpture spanning three decks.

Created by Murano glass experts Venini to a design by Monica Guggisberg and Philip Baldwin, the giant sculpture recreates the depth and light of the sea in all its variety, with 190 hand-blown red, yellow and amethyst glass fish, grouped by colour, swimming in a spiral that tapers toward the centre. Suspended from 10 vertical cables, illuminated by a spotlight from below and surrounded by a mirror wall, the fish create a play of light and colour that captures the delicate spectacle of sea life. Named "Danza del Mare", the fish truly seem to be dancing in the light.

Partly an image of Earth's lungs, partly an image of Earth's nutrition and partly an image of simple beauty, "Danza del Mare" symbolises the sea's indispensable role in our and our planet's wellbeing. We are dependent on the sea. It is not dependent on us.

And yet, in its fragility, the sculpture also conveys the fragility of the seas and how all ecosystems exist in a delicate balance, which must – for our own as well as their health – be respected and nurtured. That is the underlying message of this work of art, reminding and inspiring all of us to treat water and its teeming life with the greatest care and respect.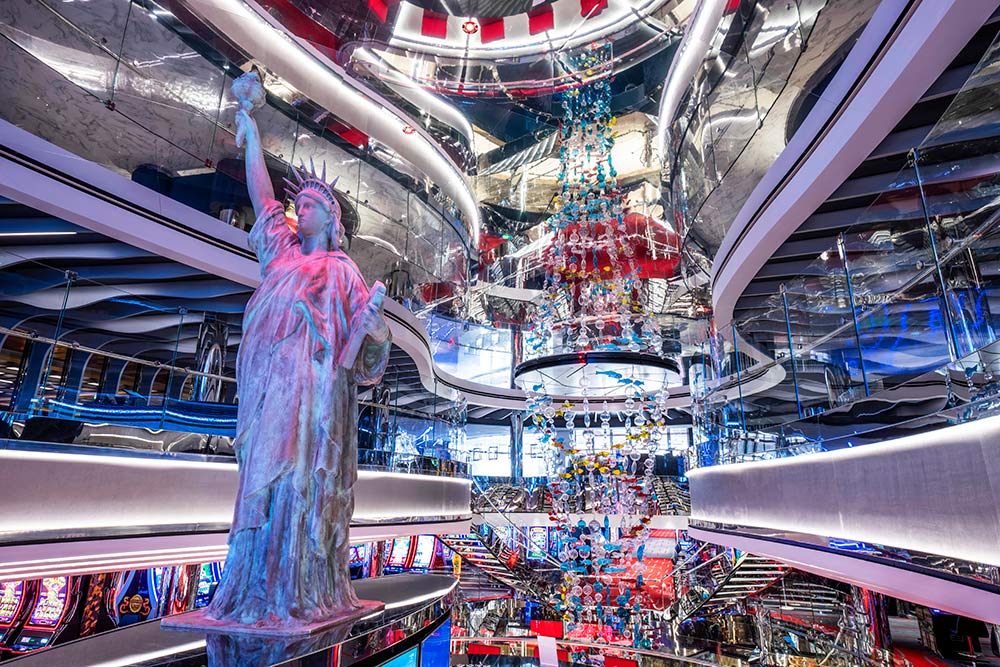 Located so prominently at the heart of MSC Seashore, the sculpture will bring its message of care for the sea to thousands of voyagers, who can visit the Centre to learn about and support the MSC Foundation's environmental conservation efforts. These include the pioneering Super Coral Programme at Ocean Cay, which is restoring the coral reefs around the island with the aim of also developing a replicable, scalable model that can be deployed to save the many dying reefs around the world.

Almost a living symbol of the MSC Foundation's efforts to protect the sea, this evocative sculpture is thus an expression of dedication, care and hope.

Daniela Picco, Executive Director of the MSC Foundation explained: "Venini, the MSC Foundation and all the MSC Cruises guests who have so generously supported us share a deep love of the sea and mutual commitment to protecting it, which are expressed in this extraordinary work of art."

Silvia Damiani, President of Venini and Vice President of the Damiani Group, commented: "Venini is proud to have contributed its expertise and craftsmanship to creating this unique sculpture celebrating the sea and its beauties."