Emiliano Gonzalez celebrated in Madrid as award in his memory enters second year
Award for 'Best Tourism Final Degree Project' in partnership with the Complutense University of Madrid is now open for its second year of applications
Focus Area: Education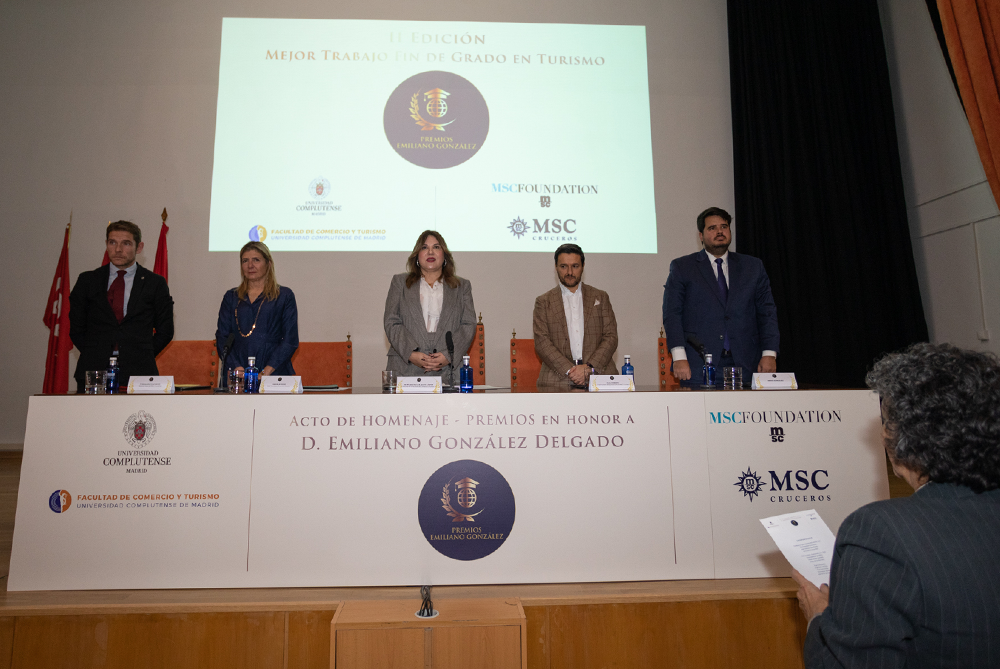 A special event was held at the Complutense University of Madrid, Spain, to pay tribute to an extraordinary leading figure in the Spanish tourism industry, Mr. Emiliano González, President of MSC Cruises Spain, who passed away in 2020. The occasion also marked the launch of the second year of the award dedicated to his memory in the presence of students, travel agents, the media and representatives of the University, MSC Cruises and the MSC Foundation, together with Emiliano's family.

It was a very emotional day for everyone, remembering and honouring Emiliano and his commitment to tourism, including through an ongoing four-year initiative that the MSC Foundation and MSC Cruises launched in 2022: an annual Award for 'Best Tourism Final Degree Project' at the Complutense University of Madrid. The award supports the winner's development with a cash prize and the opportunity to benefit from an internship at MSC Cruises.

The programme started with a welcome address from Dean Francisca Blasco Lopez of the Tourism & Commerce Faculty of the Complutense University of Madrid, followed by speeches from Daniela Picco, Executive Director of the MSC Foundation, Elia Congiu, Chief HR Officer of MSC Cruises, and Fernando Pacheco, General Manager of MSC Cruceros. This led into a commemorative video introduced by Luigi Surace, Marketing & Direct Sales Director at MSC Cruises, and singing of the Commercium song Gaudeamus Igitur, a traditional academic song with Latin lyrics. The day ended with a moving speech by Emiliano's son Mario Gonzales, who had come over from New York with his family for the occasion.

The proceedings encompassed the significant contribution of Mr. Gonzalez's work at MSC Cruises and his connections with those around him. Notwithstanding his considerable successes, Emiliano was always sensitive and approachable with family, friends and colleagues, who fondly remember his warmth and humanity, describing him as a "real gentleman".

It is only fitting that Emiliano González's legacy as a leading figure in the Spanish tourism industry continues to inspire the younger generations and to help shape our future. Those who knew him will continue to keep Emiliano's spirit alive through simplicity, humility and dedication.

Mario Gonzalez shared: "His great moral values were the standard of his life, they even led him to be stubborn and resentful, with people who made decisions he did not consider fair. As a son, I am proud to say that he was a consistent, conscientious, reserved, humble, honest, honest, hard-working person, a good friend to his friends, and of course, a great father".

Daniela Picco concluded: "This award means so much to us, embodying the values of the MSC Foundation and MSC, a family-owned Group that cares for people and the environment. We are thus strongly focused on and committed to dialogue with the new generations and can't wait for more students to share their vision of how to build increasingly responsible, aware and sustainable tourism".