MSC Foundation and UNICEF celebrate landmark €12m donations to life-changing programmes worldwide
Thirteen-year partnership in programmes, advocacy and emergency relief has informed and motivated millions of MSC Cruises guests to improve young lives worldwide
Focus Area: Community Support, Education, Emergency Relief, Environmental Conservation
The MSC Foundation and UNICEF are celebrating a partnership that has transformed young lives for over 13 years. On this landmark moment, total donations from MSC's fundraising activities for UNICEF programmes passed 12 million euros.
Partnering in six life-changing programmes across eight countries since 2009, the MSC Foundation has helped UNICEF to support education for 8,000 children in 126 vulnerable communities in Brazil, fight malaria in Africa, assist China's food supplement programme preventing child malnutrition, and deliver lifesaving ready-to-use therapeutic food treatments to more than 115,000 children with severe acute malnutrition in Ethiopia, South Sudan, Somalia and Malawi.

You can explore the salient achievements of MSC's longstanding partnership with UNICEF by clicking in the timeline below.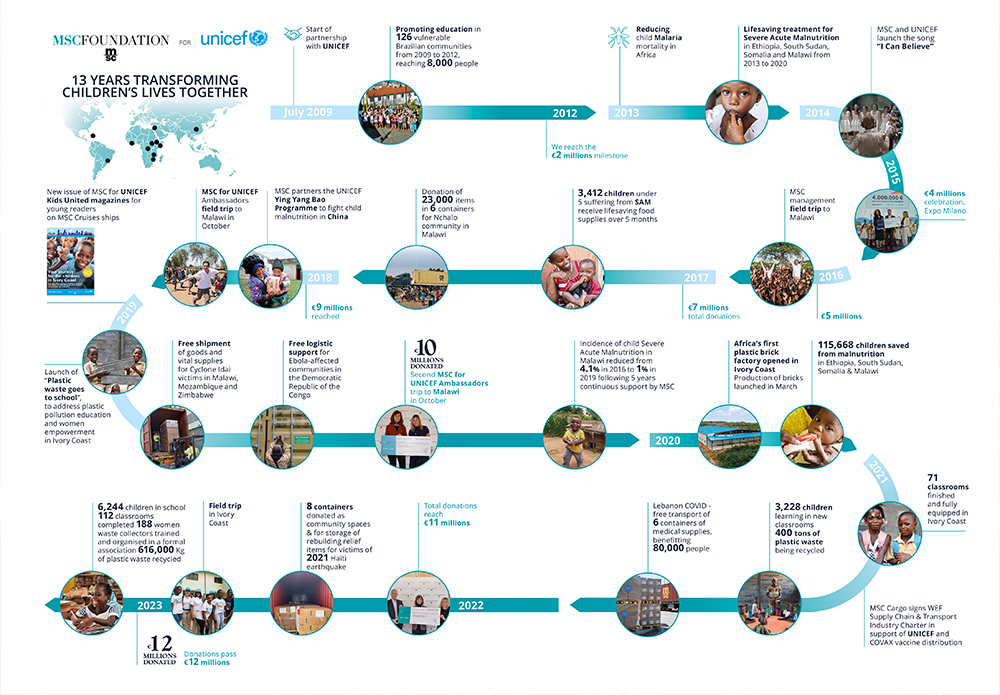 In 2019, the MSC Foundation stepped in as the first partner in the programme "Plastic Waste Goes to School" in Ivory Coast. This pioneering three-pronged initiative is simultaneously supporting marginalised women waste collectors, recycling the plastic waste collected into innovative bricks, and using these bricks to build eco-friendly modern classrooms. The vital importance of this third component cannot be underestimated in a country where 1.6 million children currently don't attend school, also because there is no place for them to learn.

The Foundation's unwavering support has enabled the programme to make a significant impact on the lives of thousands of children already, providing them with access to education and a brighter future. But its impact also spreads further, having removed many tons of plastic waste from refuse tips and empowered vulnerable women, training them as waste collectors. MSC was even instrumental in establishing the UNICEF-supported factory where the plastic waste is recycled into these durable modern bricks.

To date, "Plastic Waste Goes to School" has trained 188 women who are now organised in a formal association, recycled around 616,000 kg of plastic waste and completed 112 modern classrooms, enabling 6,224 children to gain access to a quality education.

The MSC Foundation's broad support for UNICEF extends from the Get On Board for Children fundraising campaign on MSC Cruises ships to partnering in education, community support and emergency relief initiatives. Accompanying this, the Foundation organises advocacy activities to raise awareness of UNICEF's work, including through the song "I Can Believe: MSC for UNICEF" and edutainment activities on board the MSC Cruises fleet, engaging thousands of children and young people every year. One of these initiatives is the KIDS UNITED magazine, which provides a fun, interactive way for children to learn about important topics as an exciting and enjoyable part of their cruise experience.

Alongside this, the MSC Foundation provides exceptional public visibility, having included UNICEF in over 20 international events with a global audience and extensive media exposure. By showcasing UNICEF's initiatives and impact, the Foundation raises awareness and further assists UNICEF in its mission to improve children's lives worldwide.

The Foundation's wide-ranging support for UNICEF emergency response initiatives has most recently included assistance to communities devastated by flooding in Malawi, by Cyclone Idai in Mozambique and Zimbabwe, by Ebola in the Democratic Republic of the Congo, and by the COVID-19 pandemic worldwide.

Celebrating the results of this partnership, Bettina Junker, CEO of UNICEF Switzerland and Liechtenstein, said: "We are extremely grateful that our partnership with the MSC Foundation has reached yet another impressive milestone with EUR 12 million donations to date. We highly appreciate the MSC Foundation's generous support and powerful awareness-building around UNICEF's work. We look forward to the next chapter in our partnership and are excited to continue driving change for children and young people every day."

MSC Foundation Executive Director Daniela Picco observed: "It is an honour to work hand in hand with UNICEF. Our partnership has grown from strength to strength ever since we set out together thirteen years ago. It's been a journey of great teamwork, working on very different programmes across the world, but always achieving incredible results for the children. We are extremely proud of this new milestone and very grateful for the generous donations of the millions of MSC Cruises guests who have been moved to assist UNICEF's wonderful work over these years."