MSC Foundation celebrates raising 11 million euros for UNICEF's global programmes
Twelve-year partnership in programmes, advocacy and emergency relief has saved many thousands of young lives worldwide
Focus Area: Community Support, Education, Emergency Relief, Environmental Conservation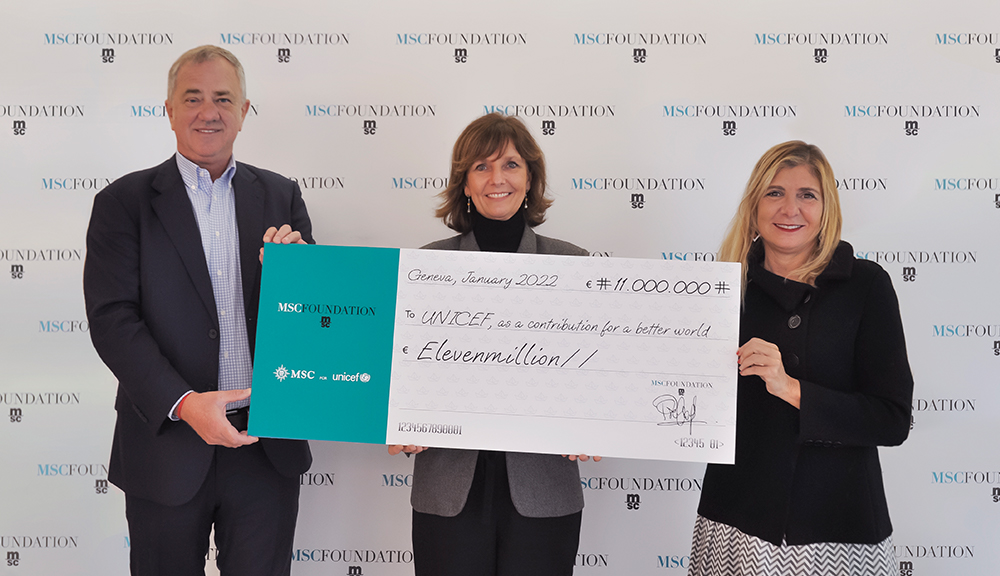 Pierfrancesco Vago, MSC Cruises Executive Chairman and Chair of the MSC Foundation Executive Committee, with MSC Foundation Executive Director Daniela Picco, presenting a symbolic €11m cheque to Bettina Junker, Executive Director of UNICEF Switzerland and Liechtenstein. (All people in the picture are vaccinated and have a negative Covid-19 test)

Celebrating a partnership with UNICEF that has saved and transformed many thousands of young lives over 12 years, the MSC Foundation announced that total donations from MSC's fundraising activities for UNICEF programmes exceeded 11 million euros.
Partnering in 5 life-changing programmes across 7 countries since 2009, MSC has helped UNICEF promote education for 8,000 children in 126 vulnerable communities in Brazil, fight malaria in Africa, support China's food supplement programme to prevent child malnutrition, and deliver lifesaving ready-to-use therapeutic food (RUTF) treatments to more than 115,000 children suffering from severe acute malnutrition (SAM) in Ethiopia, South Sudan, Somalia and Malawi.
"Sustainability is a priority for MSC Group and our partnership with UNICEF Has been at the core of our vision to be a responsible and supportive steward for communities in peril all over the world. It's deeply satisfying to see our partnership with UNICEF pass another important milestone," commented Pierfrancesco Vago, Chair of the MSC Foundation Executive Committee. "Our work together has produced transformative results for children over the years, bearing clear testimony to MSC's strong family values. We are committed to continuing our support for UNICEF's inspiring work. We and our guests, who kindly donated, have been able to support UNICEF programmes all over the world whether it is immediate crisis response using our logistical expertise or helping resolve longer term issues like child malnutrition or educations gaps through financial support. We look forward to the continuation of this great partnerships and achieving more milestones together as we help make the world a better place for communities in need across our blue planet."
MSC Foundation Executive Director
Daniela Picco
added: "
The impact of the partnership has been exceptional. For example, UNICEF's programme in Malawi reduced the incidence of child severe acute malnutrition from 4.1% in 2016 to 1% in 2019 after 5 years' continuous support by MSC. This led the government to adopt the use of RUTF as an ongoing commitment of the country's national health service. That's been a tremendous outcome! We constantly strive to increase the sustainability, scalability and long-term global impact of our programmes.
"
The support MSC provides extends from the Get On Board for Children fundraising campaign on MSC Cruises ships to emergency relief initiatives, as well as advocacy activities to raise awareness of UNICEF's work, including through the song "I Can Believe: MSC for UNICEF" and 15 events worldwide, each with a global audience and strong media exposure.
The Get On Board for Children fundraising campaign has, moreover, just been significantly strengthened with the reintroduction of the MSC Foundation's donation match pledge, which doubles the impact of every €/$1 per cruise donation MSC Cruises guests generously make aboard to fund even deeper and wider change.
The Foundation's support for UNICEF emergency response initiatives has most recently included assistance to communities devastated by flooding in Malawi, by Cyclone Idai in Mozambique, Zimbabwe and Malawi, by Ebola in the Democratic Republic of the Congo, and by the COVID-19 pandemic worldwide.
Since 2019, the MSC Foundation has been supporting a pioneering UNICEF education programme in Côte d'Ivoire, where 1.6 million children currently don't attend school, partly because there aren't enough classrooms available.
The innovative UNICEF programme Plastic Waste Goes to School is tackling this education challenge while simultaneously reducing plastic waste and supporting women empowerment. Through the programme, women are encouraged to bring the plastic waste they collect in their communities to a UNICEF-supported factory, where it is turned into durable bricks. The recycled plastic bricks are then used to build new classrooms. A total of 71 classrooms have been built to date, helping provide quality education for more than 3,500 children while creating jobs for marginalized women.
"The MSC Foundation's longstanding trust and support means a lot to us," said Bettina Junker, Executive Director of UNICEF Switzerland and Liechtenstein. "MSC's constant commitment allows UNICEF to make a difference in children's lives, and we are deeply grateful for that. It is particularly exciting to have MSC on board, supporting one of our most innovative, multidimensional programmes."
You can explore the salient achievements of MSC's longstanding partnership with UNICEF in the timeline below.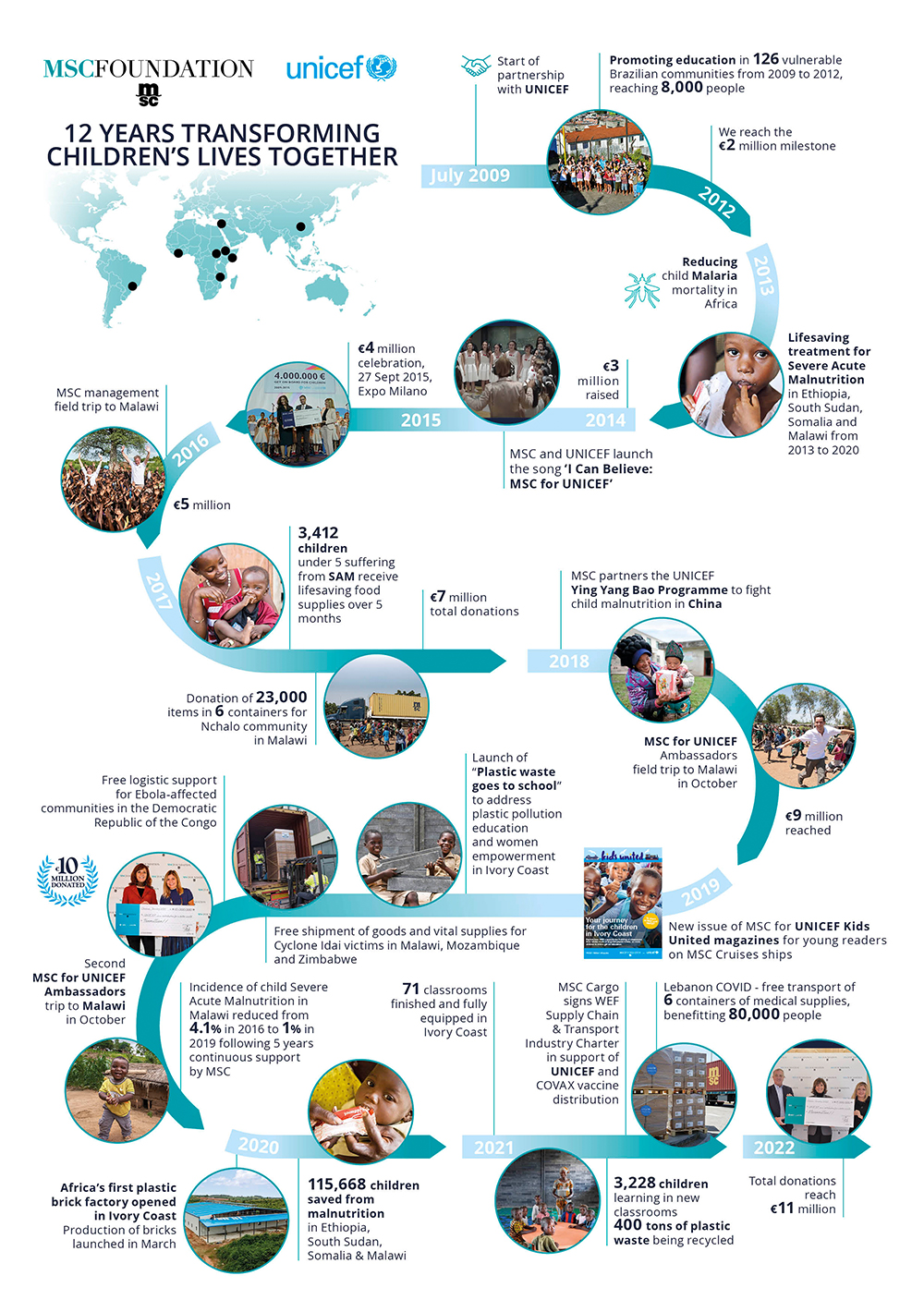 To learn more about our life-changing programmes with UNICEF, click here.