MSC and UNICEF celebrate 10 years of partnership with €10 million in donations
10 years transforming children's lives together, partnering in life-changing programmes, advocacy and emergency relief
Focus Area: Community Support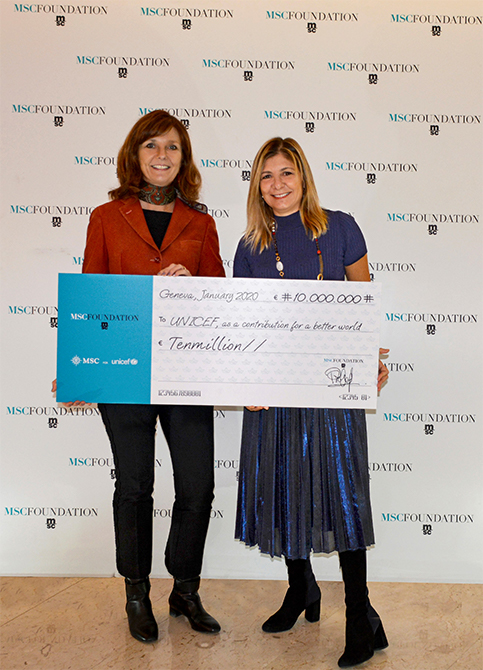 What better way to celebrate a decade changing lives than a donation milestone? Remarkably, total donations passed the €10 million mark in the tenth year of the MSC Group and UNICEF's partnership.
As a result of this support and the generosity of MSC Cruises guests, UNICEF has been able to make a difference to the lives of over 113,000 disadvantaged children around the world.
Providing street children in Brazil with better access to education. Combating malaria in Africa. Working to end child severe acute malnutrition in Ethiopia, Sudan, Somalia, and China. These are just a few of the UNICEF programmes to have benefited.
The plight of malnourished children in Malawi has been a particular focus for MSC. The money raised has enabled UNICEF to transform the lives of over 65,000 acutely malnourished children in Malawi.
The MSC Foundation and UNICEF also partner in international emergencies, and have worked together to provide urgent relief assistance in multiple humanitarian crises over the years.
The alliance between MSC and UNICEF continues to evolve in line with present-day issues. UNICEF's innovative "Plastic Waste goes to schools" programme supports the environment, improves access to education and empowers single mothers.
The programme aims to transform Côte d'Ivoire's plastic waste into bricks that can be used to build classrooms. The plastic brick factory will provide a source of income to women living in poverty. With MSC Group support, 152 classrooms will be built by the end of 2022.
UNICEF Executive Director Henrietta Fore explained "Our partnership is now entering an important new phase: developing environmental programmes that will benefit children and the planet, an inspiring example of what we can achieve when we join forces."
Younger guests aboard MSC ships can read more about this fantastic programme in the "MSC for UNICEF: Kids United' magazine". They will also be able to listen to 'I can believe', a song launched by MSC Cruises and UNICEF, which is played during the onboard children's parade.
This longstanding partnership between the MSC Group and UNICEF has been coordinated by the MSC Foundation since 2019, when it was established.
MSC Foundation Executive Director Daniela Picco, who has managed the relationship from the very start, observed: "When we launched our partnership in 2009, we had no idea where it would go. Today after ten years together, five life-changing programmes, multiple emergency relief initiatives and numerous other achievements, I couldn't be prouder of what we've all accomplished.
"A particular highlight was the Malawi programme. We worked with UNICEF to provide ready-to-use therapeutic food for children with severe acute malnutrition in Malawi. The initiative has now been adopted by the country's health service, with an ongoing commitment to continue to provide this resource.
"The incidence of severe acute malnutrition fell from 4.1% to 1% between 2016 and 2019. This is an exceptional outcome and the result of five years of MSC Group support."
UNICEF Switzerland and Liechtenstein Director-General, Bettina Junker commented: "Thank you very much for your impressive commitment over the past decade. I look forward to continuing the journey with MSC and the MSC Foundation."